AUTOMAPPPS - Robot Bin Picking
The fast and reliable grasp- and motion planning solution for robot bin picking and visual pick and place. It plans the 3D bin picking job for the entire robot, not just for the grippers or only for parts of the robot. The planner can be configured and adapted to products, conditions and task context quickly. For this, it is provided together with a tool for setup, layout and remote optimization.
Robust grasp, optimized robot motions,
Robot bin picking with faster cycle-times
Smaller robot bin picking cells possible
For almost all robot manufactures
Allows a shift of focus to value-creating applications
Considers speed and acceleration bounds of robots and cable constraints
Optimize from remote and during cell design
Reliability
SW umpteen times deployed and proven in production
Robust grasp planning and collision-free motion planning for entire robot
Handles disturbances through quick re-planning
WYSIWYG: Plan, simulate and test before the cell is realized.
Flexibility
Virtually for all applications and all robot manufacturers
Supports various sensors for different applications
Optimized cycle times
Shorter, optimized, collision-free planned motions
Considers speed- and acceleration bounds and cable restrictions
Very fast planning - multiple alternatives simultaneously
Supporting dynamic environmental changes over time
Shorter time to market, earlier revenues
Faster development of robotic solutions and applications
Less risk and re-work by proven robot bin picking technology
Covers all planning steps, allows to focus on the value creation
Earlier SoP (start of production)
Cost savings
Reduced development and engineering efforts
Minimized time for set-up and ramp-up
Reduced "cost of ownership", for servicing and for introducing new parts
Optimal cell layouts: smaller robot bin-picking cells possible
Optimize from remotely and during cell design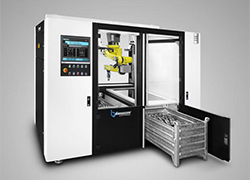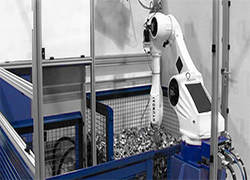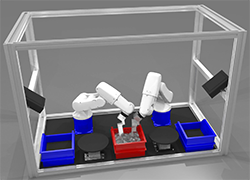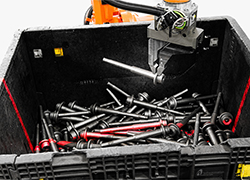 Images of robot pin picking / random bin picking. Examples bin picking robots courtesy of bsAutomatisierung GmbH, Germany and BOLL Automation GmbH Germany
APPROACH:
Select optimal sensor for the part, based on handling, surfaces, conditions and light
Design gripper for the parts. Validate and optimize using AUTOMAPPPS
Select the best suited robot and optimize the cell layout using AUTOMAPPPS
Specify grasps for each part using AUTOMAPPPS
Configure the work-cell controller and the sensor
Execute, ramp-up
(Remote-) optimization using AUTOMAPPPS
IMPLEMENTATION:
Task-sharing as key to top performance and adaptability:
The vision sensor provides information about recognized parts, not recognized parts and obstacles, transport box etc.
AUTOMAPPPS finds save and optimal grasping-, extraction- and place-motions and generates optimized, executable robot programs
The robot executes the program, the successful separation of parts is validated
The cell controller coordinates equipment and software and realizes safety and application specific aspects
The result: robot bin picking. Faster, more robust, more complete.
Download the flyer for random bin picking / robot bin picking.
AUTOMAPPPS does support planning, simulation and programming of robots of the following brands: ABB robots, AUBO robots, FANUC robots, Hanwha Robots (HCR robots), ITRI robots, SCHUNK robots (with KEBA Controller), KUKA robots,  Omron robots, Stäubli robots, Techman (TM) robots, Universal Robots (UR), Yaskawa (Motoman) robots
Furthermore, selected robots are supported in planning and simulation:  COMAU, CMA, DENSO, DÜRR, Kawasaki, Lesta, Hyndai, Mitsubishi, Nachi, OTC DAIHEN  and others on request.