AUTOMAPPPS - OLP: Faster Robot Offline Programming
AUTOMAPPPS OLP is the SW-tool for faster, easier robot offline programming. Moreover, automatic collision avoidance and automated planning and scheduling are combined with WYSIWYG simulation. Further support features make it easier to achieve the process goals. Thus AUTOMAPPPS accelerates and facilitates robot programming or layout optimization compared with conventional OLP or teach-in. Above all, programming robot gets faster even for robotic tasks which are very complex to program by other means.
Minimized efforts and costs
Fully or partially automated programming and scheduling of robot applications
Stand-alone or CAM input
Lower TCO (total cost of ownership)
Simple use

Easy robot programming
Also for Non-Experts
Process knowledge embedded in SW
Reduced test-runs
Prediction of process quality
Automated optimization
Less non-productive time, better OEE
Reduction of cycle-time
Coordinates robots with same workspace
Automatic optimization
Adaptive production lines
Faster adaptation to new products
Automatic, accelerated programming
Ideal for very high variants / small lot-sizes
Lotsize 1 supported
Cost efficient line tracking and multi-robot cells
No additional hardware required
Automatic consideration of motion
Multi-robot collision avoidance and motion planning
Cost- and space-saving cell layout
Faster cell layout and validation. Determines required robot motions automatically.
Smaller cells, especially for brown-field. Finds narrow passages in dense cells.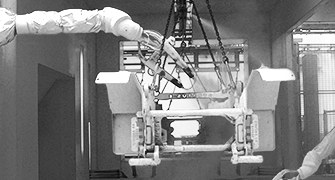 Example for faster robot offline programming of e-static powder coating application with line-tracking.
Example for cell layout optimization and robot offline programming and the realized robotic robot cell.
OLP FEATURES:
Easy robot progamming
Semi-automated process planning
Embedded process simulation as criterion for optimization
Formalized process knowledge
WYSIWYG and 3D simulation
Automated collision-free robot motion planning
Automated robot program code generation
Input: JT, STEP, IGES, STL, CAM formats, and more
APPROACH:  fast robot offline programming by
Definition of tool-paths: interactive, automated, or via CAM input
Process simulation and optimization
Collision-free robot motion planning with
Automatic optimization of sequences and auxiliary axes
Robot program upload
SUPPORTED PROCESSES:
Sanding, grinding, polishing
Cleaning (brushes)
Surface activation
Sand-blasting
Wet- and CO2 cleaning
Drying
Gluing
Inspection, quality control
Measurement, metrology
Deburring
Milling
Welding
Waterjet cutting and plasma cutting
Additive manufacturing
Download the flyer for robot offline programming software.
AUTOMAPPPS OLP has proven to be cost efficient and time saving. Even where other robot offline programming software was not applicable or not viable from a economic point of view.  Our success-stories include
robot offline programming for large complex parts with countless variants.
robot programming with line tracking where the robots had to be programmed to work between chains while the parts are moving. Hence, the robot cell needs to be stopped for 1 hour per part for determining its pose - instead of days for programming the tasks before AUTOMAPPPS robot programming and simulation software was deployed.
robot cell layout optimization and robot offline programming of multiple robots in very narrow (brown field) robot-cells with only millimeters of space.
simulation and programming of cleaning robots where the cleaning result (i.e. the removal of dust etc.) was predicted very accurately and expensive tests were avoided/ reduced.
We are especially proud because in the majority of cases where AUTOMAPPPS robot offline programming software is used, it is used by the production staff itself. Not by OLP experts. After some training with the robot offline programming software, not only OLP experts are able to master the robot offline programming. Rather everyone can program the robots. Furthermore users are enabled to deal even with very complex tasks very efficiently.
Is your robot application optimally supported by our OLP's process simulation and robot simulaiton? Ask for a demo !
At current state, AUTOMAPPPS OLP supports 20 robot producers.